Hey Makers, I'm Charlotte from the Wooden Wick Co. and today I'm here with Jeff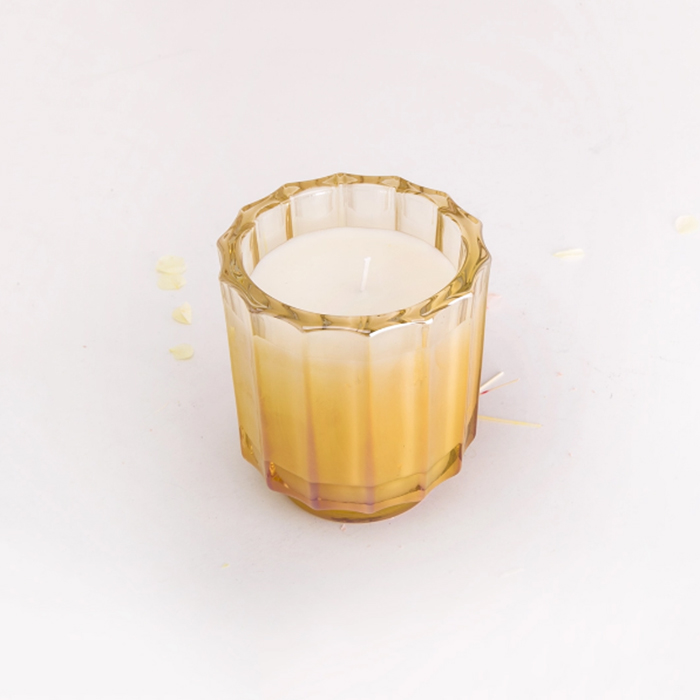 Standley from Standley handcrafted.
Thanks for having me.
if you don't know Jeff, he
has a very popular Facebook group and
YouTube platform where he helps to
educate candle makers all about candle
making and how to run a candle making
business. Jeff, tell us a little bit about
how you got started.
I started about five
years ago. My daughter is a big fan of
sugar scrubs so we were out one time -she
saw them and liked it a lot and wanted to
make it. So once we got back home we
started to make sugar scrubs and just
kind of progressed after that. After the
sugar scrubs somebody asked for candles
because they didn't want to pay for them.
And then once we made candles it just
kind of took off from there.
I love it, it all started with a sugar scrub!
So today Jeff is gonna share with
us his top 10 tips on how to make a
candle, and start a candle making
business. Jeff, what do you have for us?
There's a lot of different things you
can do! But if you're just getting into candles for the very
first time there's a lot of good
resources out there. Google is probably
the number one – just start Googling stuff
and you're gonna find hundreds if not
thousands of pages that will give you
some basic information. Past that I would
say get into a good Facebook
group, which I know you guys have one as
well.
Jeff and I both have a Facebook
group. We highly suggest joining a group
because you guys will get an amazing
sense of community, you'll get instant
help to a lot of questions that you may
have, and just have an awesome resource
to connect with other candle makers.
So if you guys are looking to
join a group, we highly suggest DIY candle
making group on Facebook, or woodwick
candle making. Outside of the group, I
would definitely go to YouTube
next. Obviously with my channel and you
guys your channel as well, there's a lot
of good information on those and you can
really narrow down past all
the guesswork. Tutorial videos are
an awesome way to help you get started
to visually see how to make candles and
just learn a lot of information
in a short period of time. Jeff's
YouTube is Standley Handcrafted and we
are the Wooden Wick Co. on YouTube so give
us both a follow and you'll get a
lot of awesome information. Next
I would say get a DIY kit. A lot of
people struggle with what to get – the
waxes, the wicks anything like that.
Usually a good candle-making kit is
going to give you everything that you need
to know and have everything
perfected for you within the box, so
that's probably the number one for starting out.
I totally agree, a kit
can be a great way to discover if you
even like candle making and how you feel
about it. A kit is a great way to
start, and it kind of segues into Jeff's
next tip that we were talking about
earlier.
Yes the reason I suggest the kit is it
keeps it real simple, and that's the
other thing I would say – if you see
some candles that you like.. anything that
I jump into – photography, video or
even candles, I see something that I like
and I try to mimic that because you
know that they have an end result. So you
try to match that. Once you
get that down – just a basic jar a
single wick and then your fragrance oil –
once you start doing it, you really
get an idea of what to do and
how to branch off from that, you
start to see things that you want to do
for the next one. So keeping it simple
and mimicking something that you see.
It gives you a building block to
start off of. Instead of trying to
jump into candle making and doing
something really complicated, starting
out simple, like Jeff said, with one
candle, one wick, and just trying to take
it from there it's a really good place
to start. Almost a paint-by-numbers kind of thing!
Absolutely!
The next one I would say is
ratios – just making sure that if you do
get something – the kits will have all
the ratios measured out of course, which
I know you guys do as well, and anything
like waxes – keeping it to
the manufacturer's ratios is probably
the biggest tip I can give you. A lot of
people want to go overboard with oils
because they think the more oil, the stronger the candle –
keeping it to the ratios that you guys
have or any manufacturer has, like the
one ounce to one pound or something like
that, it's probably a big one.
That's a great suggestion. Candle making is
just as much a science as it is in art –
You can't just go throwing a bunch of
components together and
expect them to perform properly. As
Jeff said, refer to manufacturer's
guidelines for what percentage of
fragrance oil – what percentage of
candle wax – and then make sure to weigh
out your wax and your fragrance so that
you know you're using the appropriate
ratio. That's definitely a big one. The
next one I would say is when you're
placing wicks – pen casing is a good thing
for placing wicks, especially if you get
some real tall narrow containers. These
are a little bit easier because you can
actually get your hands in there. But
using like a Bic ballpoint pen – I
found that one really early on and it
helps quite a bit. And then of course
wooden wicks are probably the easiest
ones because you can actually grip the
entire thing, you can place it and they
just center themselves – you don't even
have to center them with the centering
tools and all that. So pen casing and
wood wicks are a great way to start.
Of course I agree, wooden wicks are
a great way for beginners to just learn
how to place the wick; the wicks are
rigid so they're not going to move
around during your custom candle label wholesale – wholesalers.evlla.com, making process,
which makes them a great entry-level
wick for anybody to start out with. The
next thing I would say is probably don't
be afraid to hand your candles out. So
once you make them, a lot of people –
anything you're doing, like art, or
creations or anything like that, people
get real self-conscious and they don't want
to hand stuff out. But with candles,
once you start making them you're going to
realize that you get kind of "scent dead"
once you start making them and you kind of lose your sense of
judging how good they are. So it's always
a good idea to take your candles, hand
them out to family, give them out to
co-workers or whatever, and say please
test this for me and see what you think.
I could not agree more! What Jeff is
referring to is called olfactive
fatigue and it is a real thing! So when
you are constantly around a certain
fragrance, you may start to lose your
sensitivity to the strength of that
particular fragrance. So giving them to a
friend, a family member and getting
feedback is an excellent way to help
judge your candles.
Absolutely. The
other thing I would say, another tip, is
just kind of have fun and experiment
with them – just kind of
try new things! Try new waxes, try
new oils, and just really go from there.
I mean, what are you doing if candle
making something isn't fun, right? It's
definitely a real passion for a lot of
people, both in the Facebook groups and
on YouTube, and whether it's a business
for you or a hobby,
something you're doing every now and
then, it's definitely a really fun
activity. So don't take yourself too
seriously and make sure to keep it fun.
Another tip I was going to throw in here
is get stuff that you like. If you want
to color your candles, if you want
certain types of fragrance oils get
scents that you're going to like so that
when you actually make a product, you're
happy with! I see a lot of
people in the group who will just get a
scent because it's real popular and they
don't like it, and they just ultimately
end up with the candle they're not
really happy with. So definitely get
stuff that you like.
I totally agree,
because when you're out there if you're
selling your products, you want it to be something that you're proud of. You want to be
passionate about. So that's an awesome
tip, to just make sure that it's
consistently products that you love and
that you would want to use yourself.
Definitely and I think probably the last
one is just to kind of have fun with it.
I mean, that's really what everyone's
here for! Just have fun with it. Get out
there and continue to do stuff that you
like. If it starts to go down a route
that you're really not happy with, just
reroute and go back to what's fun about it.
I love that, I couldn't agree more!
All right guys, thank you so much for
watching today and for tuning into our
Makers tips and tricks. For additional
information, be sure to subscribe to Standley Handcrafted and The Wooden Wick Co. on YouTube.
Happy Making!